'Lord of the Rings' frog discovered in Ecuador
Scientists in Ecuador have discovered a newfound species of stream frog with pale pink eyes and gold-speckled toes that looks like it came straight out of Middle-earth. That's why the researchers who discovered it named it Hyloscirtus tolkieni after J. R. R. Tolkien, the author of "The Hobbit'' and "The Lord of the Rings" books.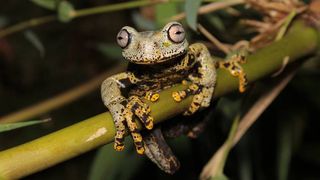 "The new species of frog has amazing colors, and it would seem that it lives in a universe of fantasies, like those created by Tolkien," Diego F. Cisneros-Heredia(opens in new tab), director of the Museum of Zoology of the Universidad San Francisco de Quito (USFQ) and associate researcher of the National Institute of Biodiversity in Ecuador, said in a statement(opens in new tab).
The researchers describe the "Lord of the Rings'' frog in a study published Jan. 19 in the journal ZooKeys(opens in new tab). H. tolkieni is 2.6 inches long (6.5 centimeters) and grayish green in color. Black spots dot its golden-yellow throat, belly, flanks and the undersides of its legs. The frog's fingers and toes too, are covered in black specks and broad skin stripes. The creature boasts an arresting pair of dusty pink eyes with black irises, which reminded the researchers of the otherworldly animals in their beloved author's fantasy worlds.
Scientists discovered H. tolkieni in the Río Negro-Sopladora National Park, a largely unstudied area of pristine páramo (alpine tundra) and cloud forest protected since 2018 and covering more than 185,000 acres (75,000 hectares). Like other species of stream frog, this critter lives in the clear mountain rivers and streams of the high Andes. Tadpoles mature near rocks in the rapids, while adult stream frogs prefer the protection of lush vegetation on the river banks.
"For weeks, we explored different areas of the Río Negro-Sopladora National Park, walking from páramo grasslands at 3,100 meters [10 thousand feet] elevation to forests at 1,000 m [3.3 thousand feet]. We found a single individual of this new species of frog, which we found impressive due to its coloration and large size," Juan Carlos Sánchez Nivicela(opens in new tab), also an associate researcher at the Museum of Zoology at USFQ and the National Institute of Biodiversity, said in the statement. 
Scientific expeditions in this region of Ecuador have led to the discovery of a large number of new species since 2020.
"The tropical Andes are magical ecosystems where some of the most wonderful species of flora, funga, and fauna in the world are present," Cisneros-Heredia said. "Unfortunately, few areas are well protected from the negative impacts caused by humans. Deforestation, unsustainable agricultural expansion, mining, invasive species, and climate changes are seriously affecting Andean biodiversity."
As a result, 57% of amphibian species in Ecuador are at risk of extinction, according to the statement.